A pilot project UNLEASH BHUTAN Where the LEARNER learns to make more & MAKERS learns to learn more. THINK IT, MAKE IT, SHARE IT. Fablab Bhutan in swift collaboration with Unicef Bhutan and integrated youth center under the Department of Youth and Sport, Ministry of Education, Bhutan.
Pi-top is a modular laptop that gives you the tools to complete amazing DIY projects and bring your inventions to life. it's the perfect tool to help you learn to code, create awesome devices, and take your knowledge to the next level.
INTRODUCING pi-top [4].
Meet pi-top [4], a go anywhere computer that inspires learners to change the world around them.
Powered by the Raspberry Pi, this modular device works with your Chromebooks or other computers to take your learning out of this world.
Attach it to a drone or balloon for a bird's eye view, connect moisture sensors to record environmental changes, wear it to measure movement and motion and use it to control everything from robotic vehicles to stage lights.
With pi-top [4], you've instant access to hundreds of projects, components and resources supported by a global community of teachers, learners and makers, so you can get started with engaging, fun and stimulating learning immediately. Think more design time, less down time.
TEAM PLAYER.
Powered by the hugely successful Raspberry Pi computer, pi-top [4] easily connects to your other PCs such as Windows, Macs and Chromebooks (as well as the rest of the pi-top family), making deploying code and retrieving results easy. It also works out of the box with your existing screens, keyboards and mice, as well as our brand new wireless keyboard and HD touch screen.

CONNECT [4].
pi-top [4] comes with Raspberry Pi's GPIO connectivity as standard, meaning you've instant access to thousands of free projects, components, resources and support. We've made getting connected even easier with pi-top's GPIO Node extension cable, which brings the interface front and centre and handily clips into third party products such as LEGO.
PLUG, PROGRAM, PLAY.
With pi-top [4], we're introducing the pi-top Makers Architecture (PMA), a game-changing range of accessories that take maker connectivity to the next level. PMA offers 'plug, program and play' options for a wide variety of sensors, cameras, motors and other off-the-shelf components.
SHOW IT THE DOOR.
With its internal battery and sturdy construction, pi-top [4] loves nothing more than taking the learning experience out of the classroom and into the real world.
Attach it to a drone, control hydroponic systems or record environmental changes. It's so small and light you can even wear it, and command LEDs or record data from actors to athletes.
MINI SCREEN, BIG DATA.
As well as connecting to a regular computer screen or video projector, pi-top [4] also has a built-in mini OLED screen. This can be programmed to display information on projects you're running, such as data and readings from attached sensors, to system information like battery life and CPU usage. The four buttons either side are also fully programmable with a wide range of commands.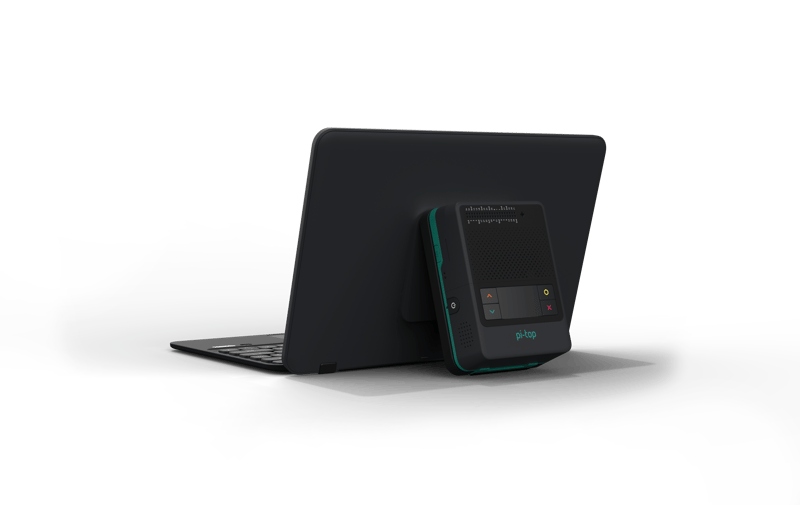 It's quite clear that 3D printing is becoming a do-it-yourselfer's dream. The ability to print practically any shape desired out of polymer material, allows for tremendous opportunity when it comes to producing innovative, creative projects. It is when you combine 3D printing with the credit card-sized single-board computer, known as Raspberry Pi, that the ideas can really start to take off. The Pi-Top is the first 3D printed laptop computer. What they intend to do is provide users with a kit packed full of all the materials needed to construct the device, as well as very detailed instructions on how to create this laptop computer from start to finish. All the user has to do is put it together, and if they choose, 3D print the outer shell. The entire process is intended to be an incredible learning experience, teaching those who are interested, skills which will forever be with them, allowing for the creation of electronics via the Raspberry Pi system.
The plan is to make these kits available via the crowdfunding platform Kickstarter, and raise enough money to allow the group to expand on their idea. If funded, the actual kits will come with an already fabricated shell via injection molding, with the option for users to 3D print their own.